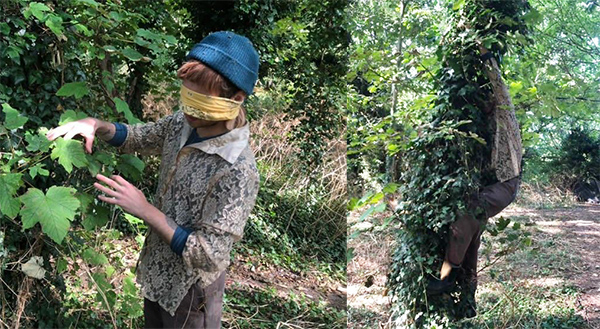 SLIPPERY SEGMENTS 17.9.19 workshop at Open School East
REWILDING FORUM 4.5.19 In conversation with art writer and critic Tom Jeffreys. Rewind/Rewild, OmVed Gardens.
ECOde 23.3.19-5.4.19 'How is nature alive?' Workshops for young people with Shauna Concannon, Invisible Dust, Scarborough.
ARTIST TALK 15.2.19 'How come humans are so clever, yet so stupid?' BA Fine Art students, Winchester School of Art.
RADICAL MYCOLOGY 24.11.19 'Sporing'. Workshop with Jane Lawson, The Bluecoat, Liverpool.
ARTIST LED INITIATIVES 22.10.19 workshop for artists, Cultivator Cornwall.
ARTIST MASTERCLASS 18-19.10.18 'Working with the more than human world'. MA Fine Art and Curating sudents, UCA Canterbury.
WORKSHOP 15.10.19 'How to ask a question' workshop MRes students, Royal College of Art.
DIY Encounters 13-17.8.19 with Helena Hunter, Hermione Spriggs, Natascha Nanji, Judith Sonnicken. ArtHouse Jersey.
AESTHETICS IN THE ANTHROPOCENE 10.4.19 'Beyond human participation' University of Sussex.
ART & RESEARCH 29.11.18 'The ramifications of making-with in a multi-species world'. Aalto University, Helsinki.
NIGHT OF FOXING 8.2.17 Performance lecture and workshop. PEER, London.
WOODLAND WORLD 13.10.16 'Woodland Semiotics' talk and workshop, Shoreham Kent.
 
A RAMBLE THROUGH NEW MATERIALISM 9.10.16 How is Nature Alive? enquiry weekend, The Quadrangle Trust.
FERAL PRACTICE: from a wood to a world 24.9.16 University of Warsaw.
ANT-IC ACTIONS 4.6.16 Ethics Art and the Moving Image Symposium, UCA Canterbury.
ANT-IC ACTIONS 10.10.15 British Animal Studies Network, Cardiff University